55 minute – Lake Amadeus, Uluru & Kata Tjuta
From $590
per person
One of our most popular experiences, this extended tour showcases the unique and amazing colours of Uluru and Kata Tjuta at sunset.
The unique flight path over the Red Center will be sure to give you the opportunity to capture that postcard photo.  Be sure to book in early as limited seats apply.
This Uluru tour includes everything that the 25-minute tour does plus many more activities!
The extra time allows your pilot to take you on a discovery of the Western side of Kata Tjuta, from here you will be given the chance to view the impressive Walpa Gorge, as well as Uluru, Mount Conner and Kata Tjuta all lined up in what appears to be a perfectly straight line. The best way to explore Uluru from the air!
While Uluru/Ayers Rock is the most famous rock formation in the area,
Kata Tjutu (The Olgas) is a Scenic Flight Booker favourite and we highly
recommend seeing this for yourself!
Tour Inclusions:
Departures Sunrise and Sunset, 365 days per year (weather permitting)
Air Conditioned bus transfers from within the Ayers Rock Resort
Informative commentary provided by your pilot throughout the flight including tips on the best angle for those postcard photos
Opportunity to have your photo taken in front of the helicopter.
Tour Inclusions:
Departures from Sunrise through until Sunset, 365 days per year (weather permitting)
Air Conditioned bus transfers from within the Ayers Rock Resort
Informative commentary provided by your pilot throughout the flight including tips on the best angle for those postcard photos
Opportunity to have your photo taken in front of the helicopter
Destination

Departure

Ayers Rock / Uluru

Included

Accommodation Pickup and dropoff

Helicopter Flight

Kata Tjuta (The Olgas)

Uluru/Ayers Rock

Not Included

15 minute helicopter scenic flight

4x4 Tour

Accommodation

Airport Transfers

All Meals

Alpine Landing

Attraction

Barossa Valley

Beach Landing

Boat Tour

Breakfast

Breakfast or Lunch

Bungle Bungles

Cable Car Trip

Cape Leveque

Coach Tour

Cygnet Bay

Dinner

Dolphin Discovery

Ferry Trip

Full day Bus Tour

Glacier Landing

Great Barrier Reef

Heart Reef

Hiking Tour

Horizontal Falls

Jet Boat Tour

Kakadu National Park

Katherine Gorge

Kayak Tour

Kings Canyon

Lunch

Lunch (Full day only)

Mount Maunganui

Mt Conner

No Booking or Credit Card Fees

Optional Helicopter Flight (extra cost)

Optional Lunch Stop (extra cost)

Optional Winery Lunch (extra cost)

Orakei Korako

Port Arthur Harbour Cruise

Rail Tour

Refreshments

Rod and Tackle

Scenic Flight

Snacks

Volcano Landing

Water and soft drinks

Whale Watching

Whitehaven Beach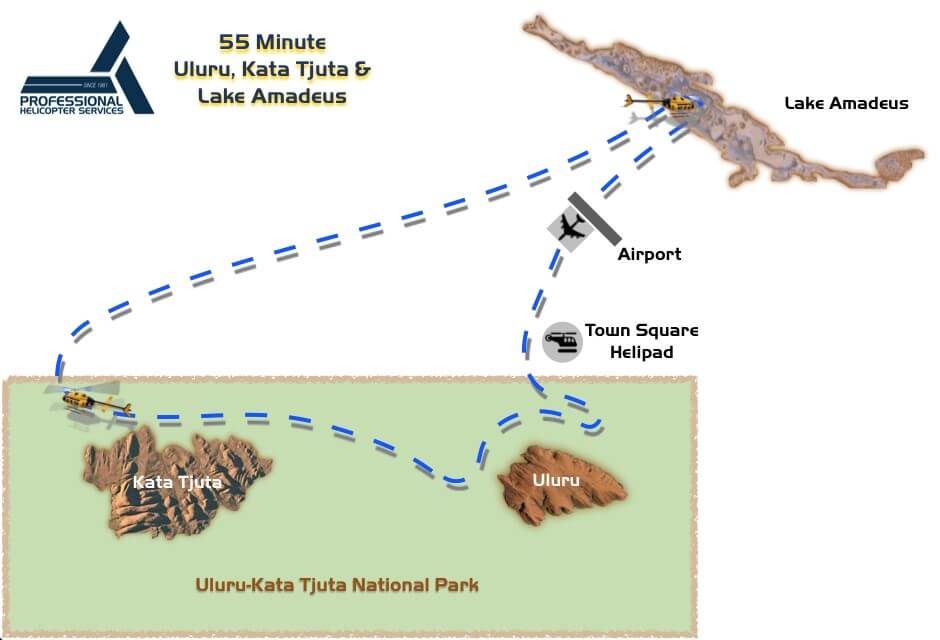 Tour Location
Professional Helicopter Services, 151 Yulara Dr, Yulara NT 0872