Shark Bay Flight 1
From $140
per person
This short 20 min flight gives you a taste of what the region has to offer
Scenic Flight 1: "Special" as indicated on the map legend (which can be found by clicking the FLIGHT ROUTE Tab) as light blue, takes in the unique beauty of Francois Peron National Park with its red sands, aqua bays and startling white beaches.Named after Francois Peron a naturalist, explorer and historian who sailed to Australia (then New Holland) with Nicholas Baudin on the ship "Geographe".
The Francois Peron National Park has stunning scenery which is often sought after by photographers and artists for the amazing contrasts in the landscape and it is not unusual for to see an array of marine life such as dolphins, sharks, rays and dugongs, all from the comfort of your aircraft seat.
At Cape Peron one can observe the confluence of ocean currents and also the varied patterns made by tidal movements. Fly over the Denham town site, past bright blue Little Lagoon and have the opportunity to spot rays, sharks, turtles and dugongs before reaching the stunning Big Lagoon, which forms a magnificent mosaic of interconnected salt lagoons.
Many of the lagoons are nurseries for many fish species. The return to Shark Bay airport is via historic Peron Homestead which was originally a sheep station now part of the Peron Heritage precinct. An Artesian soak used by the early settlers now services the very popular hot tub on the property.
Adults- $140 per person
Children- $70.00 (3 to 12 yo)
Infants FREE (up to 3 yo)
Minimum of 2 adults required for the flight!
Destination

Departure

Shark Bay Airport

Included

Not Included

15 minute helicopter scenic flight

4x4 Tour

Accommodation

Accommodation Pickup and dropoff

Airport Transfers

All Meals

Alpine Landing

Attraction

Barossa Valley

Beach Landing

Boat Tour

Breakfast

Breakfast or Lunch

Bungle Bungles

Cable Car Trip

Cape Leveque

Coach Tour

Cygnet Bay

Dinner

Dolphin Discovery

Ferry Trip

Full day Bus Tour

Glacier Landing

Great Barrier Reef

Heart Reef

Helicopter Flight

Hiking Tour

Horizontal Falls

Jet Boat Tour

Kakadu National Park

Kata Tjuta (The Olgas)

Katherine Gorge

Kayak Tour

Kings Canyon

Lunch

Lunch (Full day only)

Mount Maunganui

Mt Conner

No Booking or Credit Card Fees

Optional Helicopter Flight (extra cost)

Optional Lunch Stop (extra cost)

Optional Winery Lunch (extra cost)

Orakei Korako

Port Arthur Harbour Cruise

Rail Tour

Refreshments

Rod and Tackle

Snacks

Uluru/Ayers Rock

Volcano Landing

Water and soft drinks

Whale Watching

Whitehaven Beach
Tour Location
Shark Bay Airport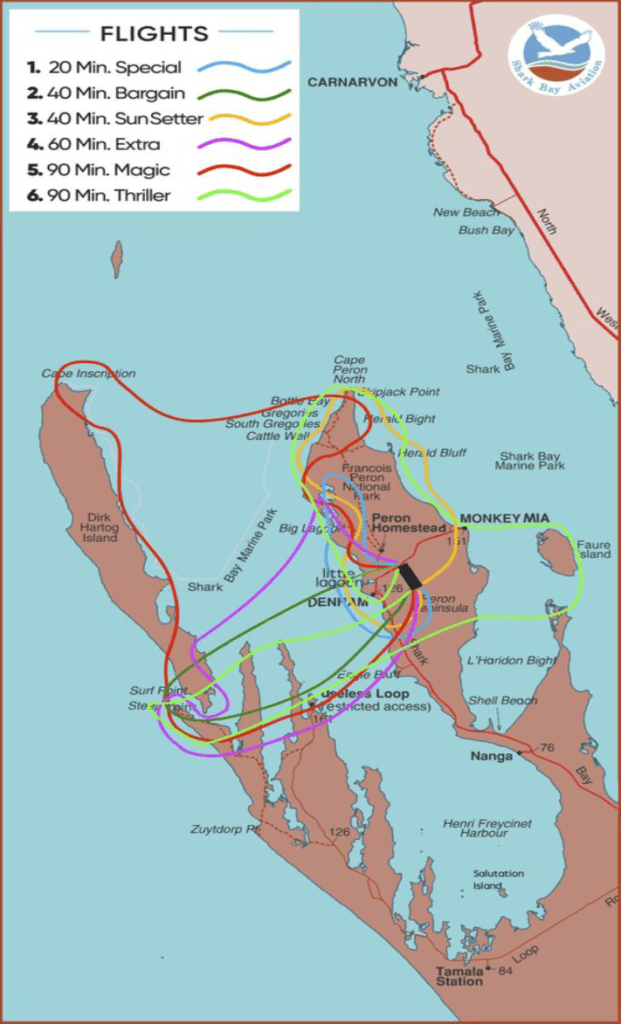 Adults- $125 per person Children- $62.50 (3 to 12 yo) Infants FREE (up to 3 yo) Minimum of 2 adults required for the flight!