This Flight is operated by:
At a glance:
Price: $AU120 per person

Duration: 20mins (approx)

Departs: Denham Airport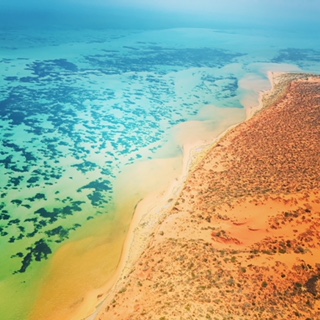 Scenic Flight 1: "Special" as indicated on the map legend as light blue, takes in the unique beauty of Francois Peron National Park with its red sands, aqua bays and startling white beaches.Named after Francois Peron a naturalist, explorer and historian who sailed to Australia (then New Holland) with Nicholas Baudin on the ship "Geographe". The Francois Peron National Park has stunning scenery which is often sought after by photographers and artists for the amazing contrasts in the landscape and it is not unusual for to see an array of marine life such as dolphins, sharks, rays and dugongs, all from the comfort of your aircraft seat.
At Cape Peron one can observe the confluence of ocean currents and also the varied patterns made by tidal movements. Fly over the Denham town site, past bright blue Little Lagoon and have the opportunity to spot rays, sharks, turtles and dugongs before reaching the stunning Big Lagoon, which forms a magnificent mosaic of interconnected salt lagoons. Many of the lagoons are nurseries for many fish species. The return to Shark Bay airport is via historic Peron Homestead which was originally a sheep station now part of the Peron Heritage precinct. An Artesian soak used by the early settlers now services the very popular hot tub on the property.